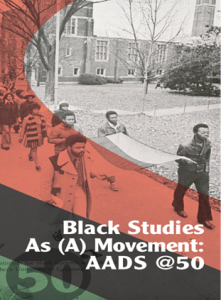 Vanderbilt Libraries is pleased to announce the virtual exhibit for  Black Studies As (A) Movement: AADS @50 is now available.  The exhibit draws content from the physical exhibit that ran from September 2019 to January 2020 in Special Collections.  It celebrates and documents 50 years of history, growth, and influence of African American and Diaspora Studies at Vanderbilt University.  Central to the exhibit is the advocacy, community and scholarship of African American students and faculty.
Librarian for African American & Diaspora Studies, History and Islamic Studies, Jason Schultz, curated the physical and virtual exhibits. He was supported by faculty and staff in the Department of African and Diaspora Studies, Special Collections and University Archives, and Carla Beals for the virtual exhibit.
Special thanks to everyone who came together to help document and share this important piece of campus history.